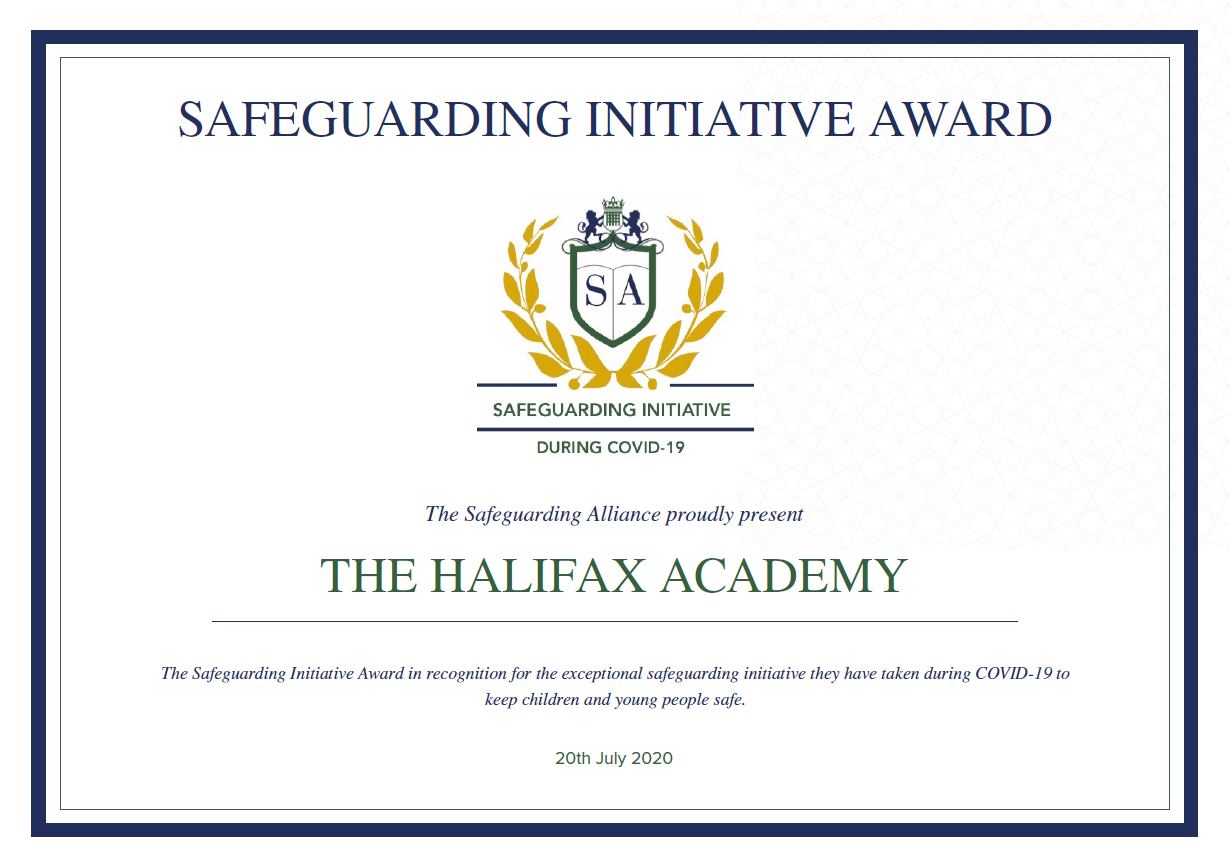 The Halifax Academy receives Safeguarding Initiative Award
We are extremely proud of our outstanding Safeguarding Team, whose work to ensure the welfare of our children and families during COVID-19 has been recognised through the achievement of a Safeguarding Initiative Award.
The Safeguarding Initiative Award highlights and celebrates schools who have demonstrated exceptional safeguarding initiative to keep children and young people safe during COVID-19. Our team received the award specifically for their hard work during the lockdown period between March and July.
The Award was assessed against three criteria:
How the school has adapted safeguarding policies and procedures during COVID-19
How the school has identified vulnerable pupils and ensured that they are kept safe during COVID-19
How the school has been innovative in their approach in safeguarding children and young people during COVID-19
Ensuring the health, safety and wellbeing of every child is of the utmost importance and our staff work hard every day to achieve this. The Award acknowledges how our colleagues have skilfully and creatively risen to the challenges present by COVID-19 to continue their vital work.
Safeguarding for children and adults during Covid-19
The unusual and difficult circumstances that we find ourselves in due to COVID-19 means that some people are at greater risk of isolation and forms of abuse such as neglect or domestic violence. Children may be spending more time online, making them more vulnerable to cyber-bullying and exploitation. With social distancing keeping us apart, it is more important than ever to look out for each other, to report anything that doesn't feel right, and to speak up if we need support.
If you have concerns about a child in Calderdale, call 01422 393336.
If you have concerns about an adult in Calderdale, call 01422 393000 or email gatewaytocare@calderdale.gov.uk
To report concerns about children or adults outside of normal working hours, call the Emergency Duty Team on 01422 288000.
In an emergency: if you or others are in immediate danger, call 999. If you are in danger and cannot talk on the phone, dial 999 and then press 55. This will transfer your call to the team who will help without you having to speak.